Understanding International Patent Costs: From Filing to Grant
Embarking on an international patent journey requires a clear understanding of the associated expenses. Let's delve into the breakdown of these costs, recognizing that they can vary based on various factors.
Initial Considerations: To estimate the total cost, let's assume a typical scenario where most aspects of the patent process are outsourced, excluding the European Patent Office (EPO). In this case, we focus on filing in five countries. Estimated expenses, including official and legal fees, typically range from US$30,000 to US$50,000. The cost distribution is as follows:
Drafting and Analysis: 10%
Filing in Five Countries: 25%
Examination Stage (with up to 1 Office Action): 58%
Granting: 7%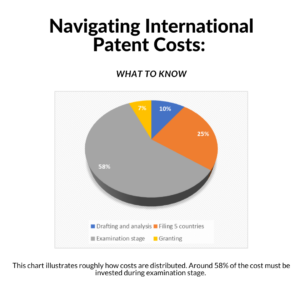 It's worth noting that the examination stage represents a substantial portion, accounting for at least 58% of the total investment. However, these figures may fluctuate based on factors such as the experience of the chosen company or attorney. Therefore, consider these essential factors during the early stages of cost estimation:
Pricing Clarity: Seek transparent pricing throughout the process, from drafting to examination, to avoid surprises from hidden fees.
Thorough Drafting: Ensure a comprehensive review of the document. A well-prepared patent draft should provide all necessary information for understanding and replicating the invention without extensive experimentation.
Filing Expertise: Opt for an attorney or company experienced in international filing, with transparent pricing structures for filing in multiple countries.
Examination Investment: Be aware that examination timelines may vary by country, sometimes experiencing delays of up to two or three years from the initial filing date.
Active Participation: Consider actively engaging in the drafting process and preparing arguments and modifications for possible office actions. This proactive approach can reduce costs by approximately 32%.
By taking these factors into account and prioritizing pricing transparency, you'll be well-prepared to effectively manage costs throughout your international patent journey. Additionally, active participation can lead to significant cost savings.
For further guidance and support in your patent endeavors, please feel free to connect with us.
Contact Us